Small Cap Report (2 May) - SSP, JSG, SNX, ZZZ, CCT
Pre 8 a.m. comments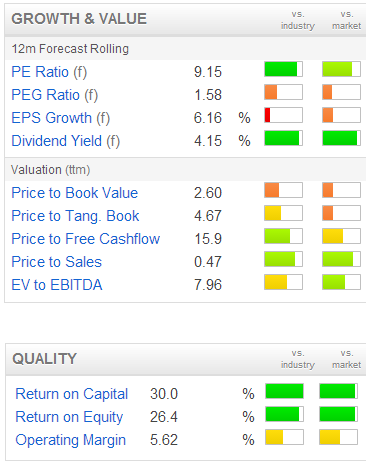 Good morning! Fairly quiet for results today, although my eye has been drawn to a trading update from Solid State (LON:SSP). They say that sales and pre-tax profits are in line with expectations for the year ended 31 Mar 2013.
As you can see from the Stockopedia "Growth & Value" table on the left, there are some good strong green bars (indicating top quintile in both absolute & sector relative terms) in the key areas of PER, dividend yield, and ROCE/ROE.
For me, that is always my instant glance as to whether the shares are worth looking into further, which in this case they are.
Also, a positive or at least "in line with expectations" trading statement is always a good starting point for researching whether to buy some shares, as you have at least got certainty over current trading, which reduces the risk of a profits warning, at least in the near future.
They have also done what appears to be a good value acquisition, paying £900k cash for Q-par Angus Ltd. It had turnover of £2.25m and post-tax profits of £214k for the year ended 31 May 2012, so the acquisition price of just £900k looks to have been a good deal. It is said to be earnings enhancing, which of course any profitable acquisition will be, if paid for in cash!
They conclude the trading statement by saying that order intake "remains strong". Looks to be an interesting potential investment, I might do some more work on this over the weekend.
Johnson Service (LON:JSG) issues a positive-sounding AGM trading update. Key points are that trading has been in line for the first four months of the year. They remain confident for the full year. It's got too much debt for my liking, so for that reason doesn't meet my investing criteria.
Post 8 a.m. comments
One thing that's generally struck me, is that whilst we've had a fairly indiscriminate move up in many shares in the past year, in order for those price rises to stick, then companies have to deliver solid trading results. So we're seeing some quite sharp pullbacks in share prices where results do not live up to expectations.
All the…

Unlock the rest of this Article in 15 seconds
Already have an account?
Login here